Many barriers in agricultural product processing
Many barriers in fruit and vegetable processing According to the Department of Agricultural Products Processing and Market Development, the country currently has about 7,500 establishments processing and preserving fruits and vegetables; in which there are about 150 processing factories with modern technological lines. However, the processing industry only meets 8-10% of fruit and vegetable output per year. Up to now, nearly 80% of exported fruits and vegetables have not been processed; Post-harvest losses are also high, about 20%.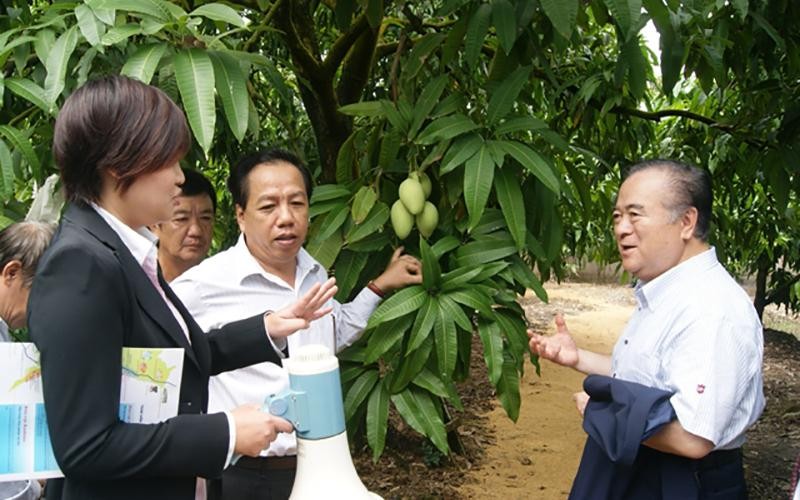 The delegation of Ibaraki province (Japan) learned about the mango industry of Dong Thap province.

Head of the Agricultural Product Processing and Preservation Department (Department of Agricultural Product Processing and Market Development) Ngo Quang Tu said: Currently, the field of fruit and vegetable processing in our country still has many limitations. Specifically, raw materials only meet 50-60% of the processing capacity.

The barriers that need to be removed

The cause of the above situation is mainly due to the small, scattered and heterogeneous cultivation area; produce vegetables with high seasonality; The problem of food safety of products is not uniform, unstable in size, taste, color, nutrition... On the business side, up to 97% of small, micro and medium enterprises have financial potential. main, human resources, weak management…so we haven't invested much in processing. Meanwhile, the consumer market for highly processed products is quite narrow, with strict regulations on residues of antibiotics, pesticides, preservatives, working conditions, environment, traceability. origin… These are major barriers to the expansion of Vietnam's processed fruit and vegetable products.

In fact, most of the localities with large fruit and vegetable production areas are facing these problems. Deputy Director of Gia Lai Department of Agriculture and Rural Development Doan Ngoc Co shared: Gia Lai province pays great attention to the development of fruit and vegetable production, with the goal of forming a large fruit and vegetable development area of ​​the whole country. country. In 2022, Gia Lai will develop about 35,000ha of leafy vegetables and fruit vegetables. The province strives to expand the area to 52,000ha by 2025.

As for fruit trees, in 2022, Gia Lai strives to expand its area to 29,700ha, with key crops being passion fruit, banana, durian, and avocado. However, the production area of ​​fruit and vegetable products meeting the standards for export is still not high. "Like fruit trees, the province currently has only 8,500ha of production according to GlobalGAP standards for export, 22 facilities and 4 processing plants for vegetables and fruits. Leafy vegetables and fruit vegetables are also around 1,200. ha of standard vegetable production," emphasized Mr. Doan Ngoc Co.

One of the big "bottlenecks" of the fruit and vegetable processing industry is product quality. Mr. Hoang Xuan Khang - representative of International Fresh Group Company, a company specializing in the production and import of vegetables, tubers and fruits in the European market information: Currently, the products distributed by the company are present in more than 3,500 supermarkets market in many European countries, but the amount of agricultural products from Vietnam only accounts for less than 1%. According to Mr. Khang, the big challenge for Vietnamese enterprises When exporting to the European market, there are strict requirements on pesticide residues, food safety standards, traceability... Therefore, state management agencies need to help these countries. Enterprises, especially small and medium-sized enterprises, can obtain certifications on standards and basic infrastructure to export to the European market, then choose appropriate products and promotion strategies.

Policy innovation, technology investment

According to Deputy Director of the Department of Agriculture and Rural Development of Son La Province Cam Thi Phong, the whole province of Son La currently has more than 82,800 hectares of fruit trees. The province was granted 241 planting area codes (with an area of ​​more than 3,800 ha), 37 codes for packing facilities for export, building 242 safe agricultural product supply chains, 24 agricultural products approved by the National Office of Intellectual Property. certificate of protection...

From the beginning of 2022 up to now, the province has consumed more than 135,000 tons of fruits of all kinds, the main consumption market is domestic with more than 131,900 tons; exported more than 1,600 tons of mangoes, 20 tons of bananas. To achieve these results, in the period of 2021-2025, Son La province has issued many mechanisms and policies to develop the processing, preservation and consumption of agricultural products. Specifically, in the longan crop year 2021, the province has issued a policy to support cooperatives, businesses and production households with funds to build drying ovens for agricultural products and refrigerated containers.

As a result, the whole province has processed 65,000 tons of longan, relieving consumption pressure in the context of complicated developments of the Covid-19 epidemic.